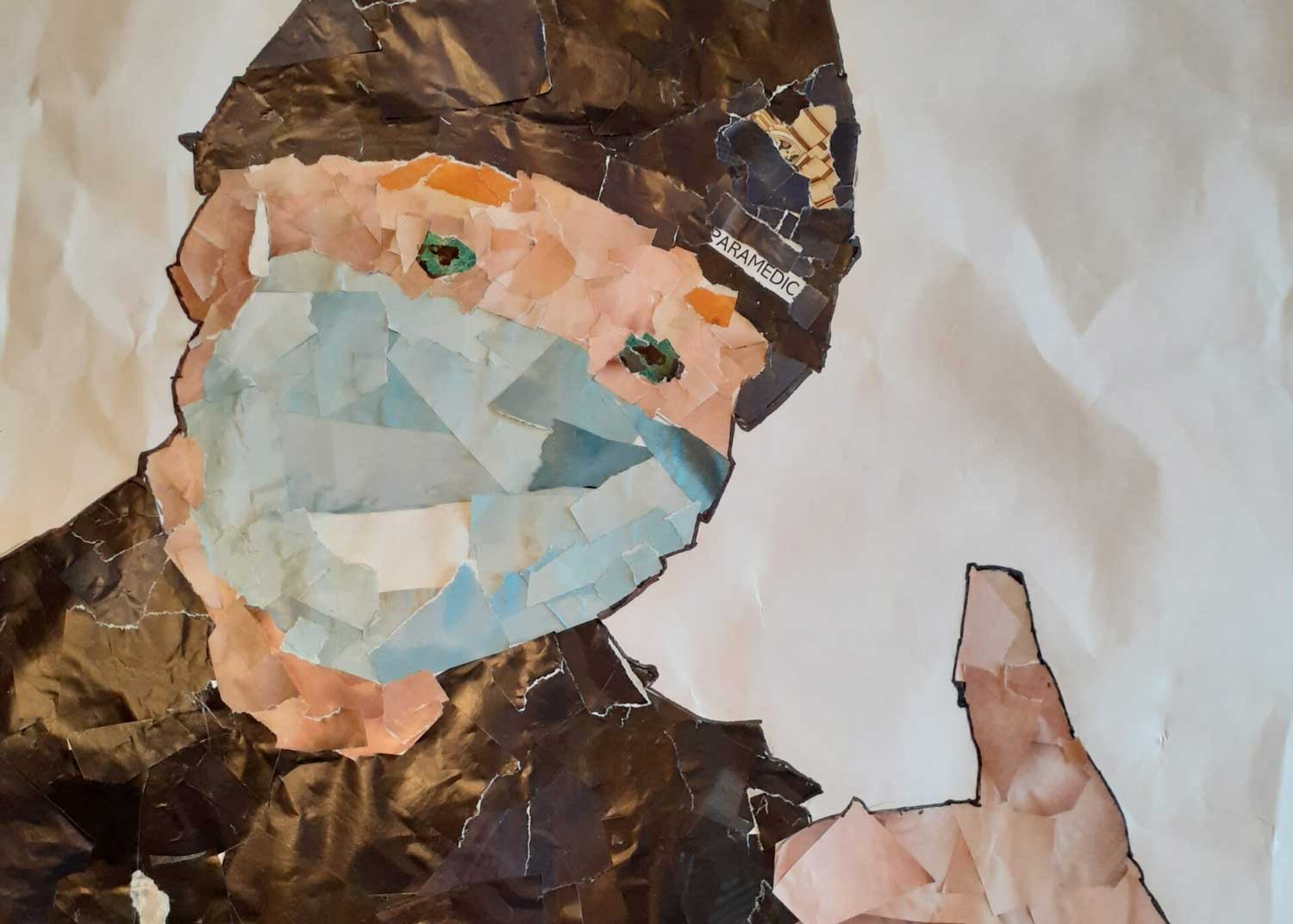 CanFASD has run an art competition every year since 2016 to showcase the creativity of Canadians with FASD. We accept paintings, drawings, sculptures, photographs, and everything in between. Each year, the winner is featured on our organization's holiday cards, but their art doesn't need to be holiday themed. The artists who apply are inspired by all sorts of things!
Artists of all ages located from coast to coast submit art. This year we had some amazingly unique pieces. It was a tough decision, but in the end our winner is Matthew Colombo!
My art project is a collage, taken from a photograph my sister gave me of our friend who is an EMS Paramedic for Waterloo Region. First, I made the picture larger and decided on the colours. Then I glued all the pieces together like a stained-glass window. I enjoy creating, drawing and photography. My dream is to become a police officer one day, or EMS, and keep having fun creating art projects, pictures, and photography.
Matthew is a teen with FASD who lives in the Waterloo region of Ontario. His art style is collages. Matthew creates images using magazines and cards which have been recycled and then cut into smaller pieces, like a stained-glass mosaic. He then adjusts all the shapes until he gets it right.
Mathew is a founding partner of the REACH For It! Program. This is a unique recreation program for children with FASD that pairs children with police officers and other first responders to do recreation activities within the local community. First responders are an important part of the program, so it is fitting that Matthew chose to create this picture of an EMS Paramedic.
Thank you to all the artists across Canada who participated in this year's CanFASD Art Competition. Stay creative! We're excited what you create for next year's competition!
This competition enables Canadian artists with FASD the opportunity to showcase their work at a national level. We offer one of the few awards in Canada that provide financial support to individuals with FASD specifically. This award was made possible by the donations we received from our community members and the interest of the artists themselves. If you'd like to sponsor the CanFASD Art Competition (or events like it) please send us an email at info@canfasd.ca.
The post Meet Our 2021 Art Competition Winner! appeared first on CanFASD.
Article from https://canfasd.ca